CTVA
The Classic TV Archive - TV Western series
<Previous The Virginian Next>
1 2 3 4 5 6 7 8 9
1.20 [--]
"If You Have Tears"
(Episode title ON screen)
Original NBC Broadcast - 13 February 1963

Revue Studios Production
Executive Producer Roy Huggins
Produced by Warren Duff
Teleplay by Frank Fenton and Frank Chase
Story by Thomas Fitzroy and Howard Browne
Directed by Richard L. Bare

Starring:
(shown on the ride-in)
Lee J. Cobb as Judge Henry Garth (not in this episode)
Doug McClure as Trampas
Gary Clarke as Steve Hill (not in this episode)
and
James Drury as The Virginian

Guest Star: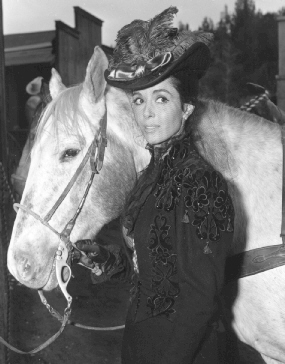 Dana Wynter [ Leona Kelland]
End Credits: (complete)
Co-Starring:
Roberta Shore as Betsy
#
Robert Vaughn as Simon Clain
#
Phyllis Avery as Martha Clain
Gene Lyons as Ballard
#
with:
Britt Lomond as Kyle Lawson
John Milford as Perry Allen
Frank Ferguson as Dunson
Tol Avery as The Coroner
Stacy Harris as The Gambler
Guy Wilkerson as The Old Timer
Frances Morris as Mrs. Hoferkamp
Jeanne Evans as The Waitress
#
and (on her own screen)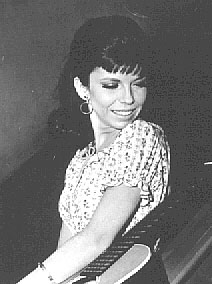 Nancy Sinatra as Cary (the saloon singer)
#
Musical Score - Morton Stevens and Pete Rugolo
Theme - Percy Faith
#
Director of Photography Neal Beckner
#
Supervising Producer Frank Price
#
Art Director - George Patrick
Film Editor - Edward Haire, A.C.E.
Editorial Dept. Head - David J. O'Connell
Musical Supervision - Stanley Wilson
Set Decorators - John McCarthy and James S. Redd
Color Consultant - Alex Quiroga
Color processing by Consolidated Film Industries
#
Art Director - Donald Baer
Sound - Ed Somers
Costume Supervisor - Vincent Dee
Makeup - Jack Barron
Hair Stylist - Florence Bush
The title "The Virginian" by permission of EMKA, LTD.

Regulars appearing in this episode:
Virginian and Trampas with a brief appearance by Betsy

Synopsis:
"Black does not do you justice my dear one...it dulls you. Suits and
trappings of woe...and there is another, if you have tears prepare to shed
them now." Simon Clain to his widowed sister Leona Kelland.

Kyle Lawson, an old war buddy of the Virginian's, is running from a false
murder charge he is accused of in his hometown of Mt. Corpus, Montana. He
arrives at Shiloh and tells the Virginian and Trampas his story. The
suspicious note he found underneath his office door asking him to meet
Lawrence Kelland out at the Toomy place, finding his gun laying next to
Kelland's dead body, and his return to his office to look at the note again,
only to find the note is missing. He asks the Virginian what he should
do~"keep on running,
or to do what else."
Trampas comments heartily "the people there must not really know you, Kyle".
Kyle responds by quoting an old saying, "He that lives by the sword shall
perish by the sword," and immediately Trampas, rubbing his forehead, says,
"a woman", and Kyle admits wistfully, "yes, a woman. Well, a girl really. A
beautiful silken girl, married to a man she didn't want to be married to. A
man she hated." The Virginian tells Kyle they are going back to Mt.
Corpus to clear his name and find out what is going on. Kyle gives his
friend a warning, "Leona is the only answer, and she won't be easy. Keep
a tight rein on your trust in me, at least for a little while." "She's that
much huh?" Sure of himself, Kyle tells the Virginian with a smile, "you'll see."

The Virginian finds this out for himself after meeting Leona Kelland at a
dinner he was invited to in her home. They become close friends, seeing
each other often.

The Virginian and Leona go on a picnic to her "special place." The
Virginian had a special place as a child and comments that you don't usually
take anyone to it. The Virginian, overwhelmed with emotion, pulls Leona to
himself in an embrace and they kiss. He asks her to tell him about her
husband. When she asks why, he tells her of his interest in her and that he
wants to find out everything about her. He has to know or, imagine, and he
wants to be of some comfort to her. After a while his thinking about her
becomes clouded and he isn't sure what he is feeling.

Leona later learns why the Virginian has been courting
her and cuts it off, not believing he truly cares and is falling in love with her.

He visits Kyle where he has been hiding and advises him to give himself up,
but leaves that decision to him. The next day Kyle rides into town and
gives himself up to stand trial.
The Virginian rides out to the Kelland ranch and tells Leona what Kyle has
done. Bewildered, she asks to be taken to see him. Speaking to each other,
Kyle blames Leona for Kelland's murder. Walking away from his jail cell,
Leona tells the sheriff she is the one responsible for her husband's murder.
When they are alone, the Virginian talks to Leona, asking her why she told
the sheriff she committed the murder. She asks him if he knows who it was
and softly he answers, "Yes." Assuming he is thinking it is the same person whom
she is thinking of, she tells him she couldn't stand by and see Simon die.
"He wouldn't know how to die, but I do." The Virginian isn't thinking of
Simon, but he doesn't tell her. Nor does he tell her who he does think
committed the murder.

Martha, Leona's sister, walks into the jail to talk some sense into her.
After doing all she can to convince Leona not to go through with it, Martha begins
making accusations and asks Leona why she's protecting Kyle, that worthless
person. Begging Leona over and over, she tells her the town will believe
what she says and not have mercy. They will believe everything they have been saying
about her and Kyle and their love affair. Ignoring her, Leona walks towards
the cell door to be locked up so she wouldn't have to continue listening to
her sister. The Virginian begins to badger Martha as he walks over and
tells her she's right, anyone who kills their husband gets very little
mercy. He asks Martha if she can tell him what was in the note, and slowly
Martha begins reciting until he stops her and asks Leona to tell him the
rest. When she can't because she doesn't know, Martha breaks down and
admits killing Lawrence Kelland for all of the cruelties he inflicted upon her sister. [arl]

Notes:
Unlike in episode 4.10, "Beyond the Border", the Virginian isn't offended by
Trampas' continued comments about Leona, but he does redirect the conversation
each time. Comments such as: "Sure is a fine batch of woman." And
when he calls her "hatchet woman."
And after coming out of the barber shop being all dressed up, Trampas
whistles and asks the Virginian if he's figuring on dazzling her to death.

We learn more of the Virginian's life prior to coming to Shiloh when he
tells Leona in a soft and thoughtful voice, " I knew a man, who could barely
write his own name. But he could talk to the birds. He could tell where a mountain
cat had walked across a bed of pine needles. He could tell his age by the
trees, and the weather by his bones, after he got old that is. And I always
considered him to be a poet." "Who was he?" Leona asks. "My father."

On the pretense of buying a bull, the Virginian and Leona ride out to Mr.
Dunsen's ranch. Leona gets out of the buggy but the Virginian remains
seated. Mr Dunsen comments, I see you had an old-fashioned bringin' up.
Won't you step down Mister?" The Virginian politely responds, "Thank you kindly."

The Virginian tells Leona he doesn't live by what other people believe. We
see the same belief expressed in episode 1.20, "Felicity's Spring".

The Virginian tells Leona he and Kyle fought together in Cuba which reminds
us of the episode 1.07, "Riff-Raff".

"Every town has a road going out of it." The Virginian to Simon.[arl]
Return to The Classic TV Archive "The Virginian" Home Page
Return to The Classic TV Archive Western Page
Return to The Classic TV Archive Home Page
Feedback - "The Virginian" Guestbook
Main Contributor for this episode: Andrea Lopez [arl]