CTVA
The Classic TV Archive - TV Western series
<Previous The Virginian Next>
1 2 3 4 5 6 7 8 9
1.13 [--]
"The Accomplice"
(first episode with on-sreen title)
Original NBC Broadcast - 19 December 1962
Revue Studios Production
Executive Producer Roy Huggins
Producer by Winston Miller
Teleplay by Howard Browne & William P. McGivern / Story by Winston Miller
Directed by Maury Geraghty

Starring:
(shown on the ride-in)
Lee J. Cobb as Judge Henry Garth (not in this episode)
Doug McClure as Trampas
Gary Clarke as Steve Hill
and
James Drury as The Virginain

Guest Star: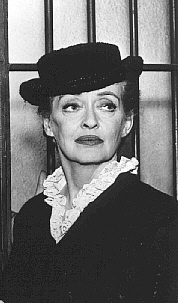 Bette Davis as Delia Miller
End Credits:
Co- starring:
Roberta Shore as Betsy
Lin McCarthy as Malcolm Brent
Gene Evans as Luke Donaldson
With:
Woodrow Parfrey as Joe Darby
Noah Keen as Samuel Cole
Ross Elliot as Sheriff Mark Abbott
Byron Morrow as Judge Cornwall
Ken Mayer as Clay Friendly
Bryan O'Byrne as Ned Carlin
Harold Gould as Tom Finney
Alice Backes as Coralee Darby
Victor French as Roy
Tim Graham as The Telegrapher
and
Christopher Dark as Walt Gleason

Other Credits:
'The Virginian' Theme - Percy Faith
Director of Photography - Benjamin H. Kline A.S.C.
Art Director - Raymond Beal
Film Editor - Edward Haire A.C.E.
Editorial Dept. Head - David J. O'Connell
Musical Supervision - Stanley Wilson
Set Decorators - John McCarthy & Robert C. Bradfield
Color Consultant - Alex Quiroga
Assistant Director - Donald Baer
Sound - Lyle Cain
Costume Supervisor - Vincent Dee
Makeup - Leo Lotito Jr.
Hair Stylist - Florence Bush
The title 'The Virginian' by permission of EMKA LTD.

Regulars in this episode:
Virginian and Trampas with brief appearance by
Steve, Betsy, Sheriff Abbott, and Harper was also noticed sitting at the table in the bunkhouse during Trampas' birthday party.

Brief Synopsis:
Trampas is charged with a bank robbery that occurred one year previously by
respected spinster Delia Miller (Bette Davis). The Virginian discovers that
Miller is trying to extort $10,000 from the real thief. [pag]

Comments:
There is a well remembered line in Owen Wister's novel "When you call me
that, smile." At the end of this episode, after Trampas has been
acquitted of bank robbery and he and the Virginian are on their way back to
Shiloh, Trampas says "Considering all the trouble this town give us, maybe
we should rob that bank. You'd make a good bank robber," to which the
Virginian quotes that famous line, "When you call me that, smile." (bj)
Time Observation:
In the opening scene a bank robbery occurs on May 21, 1896. A year later the calendar reads 1897
(no date is specified). It's Trampas' birthday. Betsy brings in a birthday cake to the bunkhouse.
Does this indicate that May 21 is the date of Trampas' birth? [pag]
Note:
This episode marks the change in Executive Producers
from Charles Marquis Warren (1.01 through 1.12 and 1.14) to Roy Huggins (1.13, 1.15 through 1.30)

Return to The Classic TV Archive "The Virginian" Home Page
Return to The Classic TV Archive Western Page
Return to The Classic TV Archive Home Page
Feedback - "The Virginian" Guestbook