CTVA
The Classic TV Archive - US Music Variety
<Previous "The Ed Sullivan Show" Next>
Season 8 (CBS)(1955-56)
Episode Guide compiled by The Classic TV Archive
with contributions by: Tom Alger
references:
TV Guide / Library of Congress (telnet://locis.loc.gov)
Internet Movie Database (http://us.imdb.com)
UCLA Film and Television Archive

Playlist - "The Ed Sullivan Show" Season 8 (1955-56)

############# The Ed Sullivan Show ###########
############## season 8 1955-56 ##############
##############################################
CBS Sundays 8:00-9:00pm Eastern

8.01 [379] The Ed Sullivan Show:
25-Sep-1955 CBS Sunday
Guests:
Lillian Gish, Peter Graves, Shelly Winters, Robert Mitchum, Red Skelton, Pearl Bailey, Rocky Marciano
Drama:
--Lillian Gish introduces four scenes from the movie "Night of the Hunter."
The movies' stars, Peter Graves, Shelly Winters and Robert Mitchum, perform live re-enactments from the movie.
Comedy:
--Red Skelton does a physical comedy boxing routine (after talking with boxer Rocky Marciano).
Music:
--Pearl Bailey sings "Toot Toot Toosie Goodbye" and "Something's Gotta Give."
--Lily Pons (soprano) performs a song from "Carmen" while Pearl Bailey gives a humorous commentary.
--Lily Pons - "Blue Danube."
--Obernkirchen Children's Choir (from Germany) perform "The Cuckoo Cries," "Brahms's Lullaby" and "The Happy Wanderer."
Sports figures:
--Heavyweight Boxing Champ Rocky Marciano is interviewed by Ed.
--Baseball All-Stars Of 1955: Duke Snider (Brooklyn Dodgers), Roy Campanella (Dodgers), Don Newcombe (Dodgers),
Willie Mays (NY Giants), Early Wynn (Cleveland Indians), Robin Roberts (Philadelphia Phillies),
Mickey Vernon (Washington Senators), Del Webb (Yankee co-owner)
Also appearing:
--George Raft, in a cameo appearance, shakes hands with Pearl Bailey.
Note: This is the first episode officially titled "The Ed Sullivan Show." The series title was previously "Toast of the Town."

8.02 [380] The Ed Sullivan Show:
02-Oct-1955 CBS Sunday
Guests:
Nat King Cole, Josh Logan & the Broadway cast of "Fanny", Dick Shawn
Music:
--Nat King Cole - "Forgive My Heart" & "Someone You Love."
Broadway:
--A tribute to the Broadway musical "Fanny" on the eve of its first anniversary. Ed Sullivan interviews Josh Logan,
co-writer, co-producer and director of the play. Segments from the play are performed by the Broadway cast
(which should include Walter Slezak, Ezio Pinza, Florence Henderson and William Tabbert.)
The cast was scheduled to perform the following songs:
--"Never Too Late For Love," the show's opening number.
--"Why Be Afraid To Dance?" by Ezio Pinza, Florence Henderson, Bill Tabbert and cast.
--A duet by Florence Henderson and Bill Tabbert.
Also appearing:
--Dick Shawn (comedian) - tells jokes about growing up in the South.
--Audience bows: Ronald Reagan, Walter Alston, Clem Labine, Johnny Padris, Billy Martin, and Tommy Burns.
--Audience bows: Desi Arnaz & Lucille Ball, whose series, "I Love Lucy," returns the next day for its 5th season.
(This is followed by a clip from an earlier show with Ed Sullivan visiting the couple at home).
--On film: A message from President Eisenhower speaking on behalf of the United Way.

8.03 [381] The Ed Sullivan Show:
09-Oct-1955 CBS Sunday
On film: Ed Sulivan visits the set of "Guys and Dolls."
(1) Frank Sinatra sings "Adelaide."
(2) Marlon Brando is shown beating drum + Ed Sullivan interviews Brando.
(3) Ed Sullivan introduces some of the cast including Jean Simmons.
(4) Romantic "Guys and Dolls" scene with Brando & Simmons.
(5) Ed Sullivan & Sam Goldwyn walk around the Samuel Goldwyn Studios.
(6) The Goldwyn Girls are introduced.
Other guests (live from New York):
--Johnny Carson (stand-up comedy routine: impersonation of Steve Allen, circling football plays on chart, etc.)
--June Valli - Can't Help Lovin' That Man"
--George Feyer (piano player) - "Continental"
--Les Compagnons de la Chanson (French singers) - "King Tagobert" (in French) & "The Three Bells"
(Note: The correct spelling might be "Compagnones")
Audience bows: Mrs. Crytser ("Bible Lady" of "The $64,000 Question"); Lloyd Nolan

8.04 [382] The Ed Sullivan Show:
16-Oct-1955 CBS Sunday
Guests:
Edward R. Murrow, Dave Brubeck Quartet, Rosemary Clooney, Billy De Wolfe
Highlights:
--Rosemary Clooney sings "Sailor Boy," "Wake Me" and "Pet Me Papa."
--Edward R. Murrow (famous TV newsman) - talks to Ed about his life and career.
--Wes Santee (athlete) - talks with Murrow and Ed about fundraising for the US Olympic team.
--The Dave Brubeck Quartet (jazz musician with his combo) - play "Smoke Gets in Your Eyes" and "Jeepers Creepers."
--Billy De Wolfe (actor-comedian)
--Evers and Dolores (man and woman high-wire act)
--Robert L'Amouret (ventriloquist act) - talking duck dummy sings "Figaro."
--On film: Dr. Albert Schweitzer is shown playing the organ.
--Cameos: The Quantico Marine Cross Country Team; John Fixa (San Francisco Postmaster); Michael Kirby (skater);
and John H. Johnson (founder of Ebony magazine).
The following guests previously listed possibly did NOT appear?
--Melvyn Douglas, Ed Begley and Tony Randall appear in scenes from their Broadway play "Inherit the Wind"
--Liberace
--Andre Kostelanetz (orchestra leader)

8.05 [383] The Ed Sullivan Show:
23-Oct-1955 CBS Sunday
Scheduled guests:
--Nat King Cole and his wife Maria
--Jack Palance, Rod Steiger, Wendell Corey and Everett Sloane perform a scene from their film "The Big Knife"
--Arthur Worsley (British ventriloquist)
--the D'Oyly Carte Opera Company
--The Charlivels (bicycle act)

8.06 [384] The Ed Sullivan Show:
30-Oct-1955 CBS Sunday
Guests:
--Andy Griffith - performs a scene from the Broadway comedy "No Time
For Sergeants" (Roddy McDowell & Myron McCormick may have also appeared.)
--Senor Wences (Ventriloquist with hand puppet)
--Orson Bean - Stand Up Re: Correspondece Courses
--Marion Marlowe - "Begin the Beguine"
--David Whitfield (British singer) - "Never Stop Loving You"
--Marion Marlowe & David Whitfield - "This Is My Beloved"
--Dick Shawn (stand-up comedian, tells jokes about schizophrenia)

Audience bows: General Omar Bradley; Jean Simmons (followed by film clip of Ed interviewing her);
Stubby Kaye; Corinne Griffith (cookbook author, early film actress); Gera Lynn Tyler (USC homecoming queen);
Dr. Baxter (TV personality); Angel Valenzuela (jockey); and Fred Russell & E B Stone (journalists)

8.07 [385] The Ed Sullivan Show:
06-Nov-1955 CBS Sunday
Scheduled guests:
--Phil Silvers (comedian)
--Liberace
--Rise Stevens (operatic soprano)
--David Whitfield (British singer)
--Linon (Belgian circus clown).

8.08 [386] The Ed Sullivan Show:
13-Nov-1955 CBS Sunday
Guests:
--Edith Piaf (French chanteuse) - "If You Love Me"
--Shirley Booth - does scene from "The Desk Set" (This scene might also include the other cast members
Byron Sanders, Dorothy Blackburn, Clarice Blackburn and Anne-Marie Gayer).
--Al Hibbler - "Unchained Melody" & "He"
--Arthur Worlsey (British ventriloquist, dummy does all the talking, says the alphabet)
--Joyce Grenfell (English comedian) - introduces dancers Paddy Stone, Beryl Kaye, Irving Davis,
then Joyce does comic routine as nursery school teacher.
--Earl Sande & Eddie Arcaro (Jockeys Hall Of Fame Awards)
--Christmas Doll Contest Winners: Alice Adams, Barbara Webb & Judy Poucher
--Purdue University Glee Club - sing religious songs incl. "Glory, Hallelujah"
Audience bows:
Marie Sabret & Jaques Tosha (from Comedie Francois, on-stage bow); Governors Happy Chandler & Oval Freeman

8.09 [387] The Ed Sullivan Show:
20-Nov-1955 CBS Sunday
"Dr. Jive's Rhythm and Blues" sequence:
--Bo Diddley - "Bo Diddley"
--LaVern Baker - "Tweedlee Dee"
--The Five Keys - "Ling Ting Tong"
--Willis "Gater Tail" Jackson & his Band (instrumental song with wild saxophone solo)
Note: The above acts were all part of a revue of rhythm & blues acts introduced by Tommy "Dr. Jive" Smalls,
a New York disc jockey. ("Dr. Jive's Rhythm and Blues" was a revue at New York's Apollo Theater.)
Additional guests:
--Film clip from "Big Knife" with Rod Steiger & Jack Palance
--Ted Lewis (bandleader-singer) - "How Long Is He Gonna Last?" & "Me And My Shadow"
--Suzanne Brooks & Ted Lewis - "After You've Gone"
--Jack Carter (comedian, stand-up routine)
--Caesari Siepe (of the Met opera) - "Na Voce'na Chetarra" (in Italian) and & "Love Is A Many Splendored Thing")
--Wandy Tworek (Danish violinist, does a comic musical act)
--Vicente Escudero (69 year old Spanish Flamenco dancer)
Audience bows: Helen Hayes, Robert Dowling, Farley Granger

8.10 [388] The Ed Sullivan Show:
27-Nov-1955 CBS Sunday
Scheduled guests:
--Pearl Bailey
--Dick Shawn (comedian)
--The Goofers (comedy vocal-instrumental group)
--opera star Licia Albanese & her three-year-old son do a scene from "Madam Butterfly."
--The Princeton Triangle Club
--Collier's All-American football team

8.11 [389] The Ed Sullivan Show:
04-Dec-1955 CBS Sunday
Scheduled guests:
--Bud Abbott and Lou Costello
--Lillian Roth
--Kate Smith
--The Three Houcs (comedy juggling team)
--Andre Eglevsky and Diana Adams (ballet stars)
On film (10-minute film): Ed Sullivan visits with Burt Lancaster, Gina Lollobrigida and Tony Curtis in Paris
where they are filming the movie "Trapeze"
Note: Abbott and Costello might have cancelled. They were also scheduled (possibly re-scheduled) to appear
on next week's show.

8.12 [390] The Ed Sullivan Show:
11-Dec-1955 CBS Sunday
Guests:
--Teresa Brewer - "There'll Be Some Changes" & "A Good Man Is Hard To Find"
--Sugar Ray Robinson (boxer) - Talks about his comeback & thanks Ed
for his support. Robinson's manager Joe Glaser makes an appearance.

--Ed presents Lambert Trophy to Coach Olson on behalf of the University of Pittsburgh.
Also on stage: Sugar Bowl Queen Dawn Aber & the co-captains.
--Judy Tyler & William Johnson - "All At Once You Love Her" (from play "Pipe Dream")
--Joyce Grenfell (English comedian) - sings an old English folk song
and does a stand-up comedy routine (with sympathetic mother talking
to her teenage daughter).
--The Grenfell Dance Team (Irving Davis, Patty Stone & Beryl Kaye) dance to "Basquette"
--Wandy Tworek (comic concert violinist from Denmark)
--Mimi Benzell (opera star) - "Autumn Leaves" (in French)
--Oberkirchen Choir sing "God Rest Ye Merry Gentlemen," a German carol & "Deck the Halls"
--The Three Markays (comic acrobats, contortionists with parallel bars)

Audience bows: George Meany (president of AFL/CIO) and his wife; Joan Caulfiled, Frank Ross, Donald Douglas, Jr.,
John S. Pillsbury & J. R. Potee, Henry & Victor Lambert; U.S. serviceman
Note: Abbott and Costello were scheduled to appear on this episode but they are not mentioned on the transcript.

8.13 [391] The Ed Sullivan Show:
18-Dec-1955 CBS Sunday
Scheduled guests:
--Orson Welles
--James Mason and his daughter Portland
--Orson Bean (comedian)
--Senor Wences (ventriloquist)
--Marion Marlowe (vocalist)
--Les Compagnons De La Chanson
--Kirby's "Flying Ballet" aerial act

8.14 [392] The Ed Sullivan Show: CHRISTMAS SHOW (from New York)
25-Dec-1955 CBS Sunday
Scheduled guests :
--Gary Cooper and Rod Steiger re-enact scenes from "The Court-Martial of Billy Mitchell"
--Michigan State University Glee Club
--Jay Nemeth (puppeteer)
--Clauson Bears
--The Three Merkeys (bar acrobats)
--Pianists from the Sabback School of Music in Charleston, S.C.
--A bell-ringing youngster from the Cathedral of St. Philip in Atlanta, Ga.
Also: In a remote from New York's Roxy Theater: Scenes from the ice show "Happy Holiday, Anywhere, U.S.A."
starring Sonya Kaye and Miroslava Nachodska (Czech skating champion)

8.15 [393] The Ed Sullivan Show: NEW YEAR'S DAY SHOW
01-Jan-1956 CBS Sunday
with scheduled guests
(a "Stardust Parade" of young and up-and-coming talent):
--Roger Williams (pianist)
--The Dreamweavers
--Dick Duane (singer)
--Joan Maize and the Chordsmen (singing-instrumental group)
--Amru Sani (singer from India)
--Cook and Corey (comedy act)
--Ricky Layne (ventriloquist)
--Barry Blake (impressionist)
--the Pickerts (10 jitterbugs on stilts)
--Kodell (magician)

8.16 [394] The Ed Sullivan Show:
08-Jan-1956 CBS Sunday
Scheduled guests:
--Pearl Bailey
--Myron Cohen (comedian)
--Lily Pons (opera soprano)
--The Lone Ranger (Clayton Moore/Jay Silverheels?) and his horse Silver
--Al Hibbler (singer)
--Joyce Grenfell (British comedian)

8.17 [395] The Ed Sullivan Show:
15-Jan-1956 CBS Sunday
Scheduled guests:
--The Broadway cast from "The Matchmaker" performs scenes from the play.
--Jean Carroll (comedian)
--The Billy Williams Quartet
--Jose Greco (Spanish dancer)
--Amru Sani (India's top vocalist)
--Ricky Layne (ventriloquist)

8.18 [396] The Ed Sullivan Show: ASCAP SALUTE
22-Jan-1956 CBS Sunday
A salute to ASCAP (The American Society of Composers, Authors and Publishers)
with guests:
--Cab Calloway (with daughter Layla) - "Little Girl"
--Mitch Miller - "Yellow Rose Of Texas"
--The Whiting Sisters (Richard Whiting's daughters Margaret and Barbara) - medley:
"Ain't We Got Fun," "Sleepy Time Gal," "Louise", "He's Funny That Way" & "Too Marvelous"
--John Raitt - "If I Love You"
--John Raitt & Claramae Turner - "The Song Is You" (from "Music In The Air")
--Frank Silver - "Yes We Have No Bananas"
--Jack Norworth (composer) - "Shine On Harvest Moon" & "Take Me Out To The Ballgame"
--Ernie Burnett - "Melancholy Baby"
--Jule Styne - medley of movie tunes: "I Don't Want To Walk Without You," "Diamonds Are A Girl's Best Friend,"
"It's Been A Long, Long Time," "It's Magic," "I'll Walk Alone," "Never Never Land" & "Three Coins In A Fountain"
--Billy Daniels - "Easy To Love," "My Blue Heaven" & "That Old Black Magic"
--Helen Kane - "I Wanna Be Loved By You" (The original Boop-Boop-A-Do girl)
--Rose Murphy (plays piano) - "I Can't Give You Anything But Love"
--Will Oakland - "Macushla"
--Maude Nugent Jerome - "Sweet Rosie O'Grady"
--Pat Rooney - "Sidewalks Of New York"
--Claramae Turner - You'll Never Walk Alone
Frank Silver (Guest)
Audience bows: Mitchell Parish, Don George, Singing Sam, Stanley Adams, Roy Regal

8.19 [397] The Ed Sullivan Show:
29-Jan-1956 CBS Sunday
Scheduled guests:
--Kim Novak and Susan Strasberg perform scenes from their movie "Picnic"
--Gracie Fields (English singer-comedian, in a remote from Madison Square Garden)

8.20 [398] The Ed Sullivan Show:
05-Feb-1956 CBS Sunday
Segements with Lucille Ball, Desi Arnaz and the Four Ames Brothers:
--Lucille Ball & Desi Arnaz - with scene from their new movie "Forever Darling"
--Ames Brothers join Desi Arnaz and Ed on stage, Lucy is disguised as 5th Ames brother.
--Desi Arnaz & the Ames Brothers - "Forever Darling"
--The Ames Brothers sing "I'm Gonna Love You" then do vocal impressions:
"Whole World Shines" (Laine), "Everything I Have Is Yours" (Epstein), "Too Young" (Cole),
"Some Enchanted Evening" & "If I Didn't Care" (Ink Spots)
--Lucille Ball still dressed as the 5th Ames Brother comes out for a bow, she talks to Ed who presents
her with a trophy.
Rodgers and Hammerstein / "Pipe Dream" segment
--Ed interviews composers Richard Rodgers and Oscar Hammerstein. They talk about illustrations of character portrayal
through the medium of music. As an example, they use songs from the Broadway musical "Pipe Dream":
(1) Judy Tyler - "Everybody's Got A Home But Me"
(2) William Johnson - "The Man I Used To Be"
(3) Pipe Dream" cast - "Lopsided Bus"
(4) William Johnson & Judy Tyler - "All At Once You Love Her"
Other guests:
--Orson Welles & cast do scene from "King Lear"
--Rickie Layne (ventriloquist with his dummy Velvel) - Ed appears on stage during act.
Audience bows: Richard Rodgers & Oscar Hammerstein (bow prior to
interview); Eddie Dowling; Irene Hayes
Note: Corey and Cook (comedy team) and Eddie Peabody (banjo player)
were scheduled to appear but are not mentioned on the transcript.

8.21 [399] The Ed Sullivan Show:
12-Feb-1956 CBS Sunday
Scheduled guests:
--Shirley Jones (singer-actress)
--Carl Sanberg (poet)
--Pearl Bailey (singer)
--Sam Levenson (comedian)
--Andre Kostelanetz and his Orchestra

8.22 [400] The Ed Sullivan Show:
19-Feb-1956 CBS Sunday
Scheduled guests:
--Hermione Gingold (British comedienne)
--Billy DeWolfe (comedian)
--The Peters Sisters (vocal group)
--Jean Madeira (from the Metropolitan Opera Company)
--Winifred Atwell (European concert pianist)
--The Goofers (comedy instrumental group)
--The Tucson Boys Choir
--Opal (a performing elephant)

8.23 [401] The Ed Sullivan Show:
26-Feb-1956 CBS Sunday
Scheduled guests:
--Fred Waring and the Pennsylvanians
--Lillian Roth (singer)
--Carol Haney (dancer)
--Rickie Layne and Velvel (ventriloquist act)
--Nick Noble (singer)
--The Percellis (an aerial act)
Also: cartoonists Al Capp ("Li'l Abner"); Milton Caniff ("Terry and the Pirates" & "Steve Canyon");
Rube Goldberg, Willard Mullin; Gurney Williams; Whitney Darrow, Jr.; Barney Tobey; and Virgil Partch.

8.24 [402] The Ed Sullivan Show:
04-Mar-1956 CBS Sunday
Guests:
--Edith Piaf - "Merry Go Round" & "Padame"
--Senor Wences (ventriloquist with hand puppet & head in box)
--Dick Shawn (comedian) - stand-up: tells jokes about childhood & sings "16 Tons" (with new lyrics)
--Marion Marlowe (singer) - "Mrs. Noah"
--Dieter Tasso (announced by Scampy) - high wire walker catches & balances cups & saucers
--Marion Marlowe sings an Italian song (title unknown)
Look Magazine Awards" segments (some of the awards presented from Hollywood):
--Film clip: Frederick March in scene from his 1941 film "One Foot In Heaven"
--Frederick March presents Jimmy Cagney with Look Award for "Love Me Or Leave Me"
--Edmond O'Brian presents Jack Lemmon with award for "Mr. Roberts"
--Film clip from earlier Sullivan show: James Cagney & Jack Lemmon perform scene from "Mr. Roberts"
--Ed presents Jo Van Fleet with award for "I'll Cry Tomorrow"
--Gregory Peck presents Susan Hayward with award for "I'll Cry Tomorrow"
--Film clip from "Gentleman's Agreement" with Gregory Peck & Dorothy McGuire
--Walt Disney presents award to Fess Parker for "Davy Crockett"
--Eva Marie Saint presents award to Kim Novak
--Burt Lancaster accepts award on behalf of Anna Magnani for "Rose Tattoo"
--Kim Novak presents award to James Wong Howe for Best Cinematography
--Clip from earlier Sullivan show: Ed Sullivan with Gary Cooper & Burt Lancaster on the set of "Vera Cruz."

8.25 [403] The Ed Sullivan Show:
11-Mar-1956 CBS Sunday
Scheduled:
--Roger Williams (pianist)
--Dick Duane (singer)
--Jimmie Komack (comedian)
--Amru Sani (singer from India)
--Enzio Stuarti (singer)
--Dorothy Hayden's champion Irish Steppers
--Lynda-Lynch and her dance trio
--Unus (balancer)
--The Schaludis (bicycling acrobats)
--the Marvellos (variety act)
--Ricky Layne and Velvel (ventriloquist act)

8.26 [404] The Ed Sullivan Show: sched:
18-Mar-1956 CBS Sunday
Scheduled guests:
--Marcel Marceau
--Eli Wallach (actor, performs a scene from the Broadway play "Teahouse of the August Moon")
--Nat King Cole
--Joe E. Lewis (entertainer)
--Roberta Peters and Cesare Siepe (from the Metropolitan Opera)
--The Charlivels (a novelty act)

8.27 [405] The Ed Sullivan Show:
25-Mar-1956 CBS Sunday
Scheduled guests:
--Nat King Cole
--Jack Carter (comedian)
--Helen Traubel (opera star)
--Ande Segovia (guitarist)
--Reese and Davis (comedy team)
--Montes de Oca (circus act)
--The Jackson Zouaves American Legion drill team (of Jackson, Michigan)

8.28 [406] The Ed Sullivan Show:
01-Apr-1956 CBS Sunday
Scheduled:
--Bob Crosby and his singing daughter Cathy
--Lilli Palmer
--Teresa Brewer
--Gloria DeHaven and her father Carter DeHaven (song-and dance man)
--Harry Secombe (British singer)
--Mata and Hari (dance team)
--The Georgetown University Glee Club
--Alberto Zoppe's midget act

8.29 [407] The Ed Sullivan Show:
08-Apr-1956 CBS Sunday
Scheduled guests:
--Noel Coward
--Mitzi Gaynor
--Andre Kostelanetz and his orchestra
--General Carlos Romulo (of the Philippines)
--Erlinda Cortes (actress)
--Richard Hearne (English comedian)
--Yana (English actress-singer)
--Roger Quaino (balancer)
--Evy and Everetto (unicyclists)

8.30 [408] The Ed Sullivan Show:
15-Apr-1956 CBS Sunday
Scheduled:
--On film: Grace Kelly and Ralph Meeker doing a song-and-dance number
(possibly a clip from the October 18, 1953 Sullivan - "Toast of the Town" show).
--Helen Traubel (opera star)
--The U.S. Naval Academy Glee Club
--Ed Gardner (comedian, "Archie" from "Duffy's Tavern") does a baseball comedy sketch
--Former stars of the Philadelphia Athletics appear on the program in honor of the late Connie Mack
--Ricky Layne (ventriloquist with his dummy "Oiving")

8.31 [409] The Ed Sullivan Show:
22-Apr-1956 CBS Sunday
Scheduled guests:
--The Ames Brothers (singing quartet)
--Senor Wences (ventriloquist)
--Marion Marlowe (singer)
--Sam Levinson (comedian)
--Enzo Stuarti (singer)
--The Three Goetschis (unicyclists)
--Alcetty (a European balancing act)

8.32 [410] The Ed Sullivan Show:
29-Apr-1956 CBS Sunday
Scheduled guests:
--Eve Arden (guest hosting, while Ed Sullivan is in Japan)
--Kate Smith (singer, celebrating her 25th anniversary in show business)
--Jean Carroll (comedian)
--The Peters Sister
--Richard Hearne (British comedian known as "Mr. Pastry")
--The Goofers (an instrumental-comedy group)
--The Luvas

Anne (Mortimer) Eurick <annedesantis@att.net> (908)246-0587
Dear Readers;
I appeared "live" on Eve Ardens's guest-hosting of the Ed Sullivan Show,broadcast of April 29,1956, while Ed Sullivan
was in Japan. I was the dancer shown executing the spinning tire of the MERCURY auto commercial, which then melded into
astrongman holding & bending a metal rod into the letter M for Mercury. The commercial ended with me taking a "swandive"
into the camera for a closeup.I am seeking a copy of this commercial for my family archives. Can you helpme to obtain
this commercial? I look forward to your reply.
Thank you. Sincerely, Anne (Mortimer) Eurick <annedesantis@att.net> (June 2011)

8.33 [411] The Ed Sullivan Show:
06-May-1956 CBS Sunday
Scheduled guests:
--Tony Martin (singer)
--Nat King Cole
--Edie Adams (singer)
--The Lovers (singing group)
--Will Jordan (comedian)
--Ricky Layne (ventriloquist with his dummy Velvel)
--The Linda Lynch Trio (dancers)
--The Rich Township Choir (top high school singing group from Chicago)
--Nino Nanni (listed as a "keyboard jester")

8.34 [412] The Ed Sullivan Show:
13-May-1956 CBS Sunday
Mother of the Year Awards (the City of Hope Hospital awards to the outstanding Hollywood mothers of the year):
--Robert Young presents Mother Of The Year Awards to
June Allyson, Ann Blyth, Betty Grable, Deborah Kerr, Betty Hutton, Rosemary Clooney.
Other guests:
--The Barry Sisters (singing duo) - "It's All Right With Me" & "Yiddish Mama"
--On film: Louis Calhoun is interviewed on the set of "Tea House Of The August Moon"
--Carlos Ramirez (singer) - "Granada"
--The Three Markeys (acrobats on parallel bars)
--Ed talks with Don Farresse (of the Baltimore Orioles)
--Gene Wesson & Gordon Polk (comic duo, sing "You Gotta Have It" & "Sunny Side Of The Street")
--Ving Merlin & his Blonde Violins (girl violinists) - "12th Street Rag"
--Jay Marshall (stand-up comedy routine: jokes with rabbit hand puppet.
The puppet sings "If I Had My Way" & "Just One Of Those Things")
--Jose Greco (Spanish dancer, with 3 other male dancers)
--The Fredonia Family (acrobats, might be The Fredonis Family)
Audience bows: Richard Egan; Jerry Wald; Lou Ponfield; John Rawley;
and Mrs. Jane Prichard (American Mother Of The Year, has 75 adopted children)

8.35 [413] The Ed Sullivan Show:
20-May-1956 CBS Sunday
Guests:
--Marcel Marceau (mime) - does "Butterfly" & "David and Goliath" routines.
--Teresa Brewer - "Sweet Old-Fashioned Girl" & "Take Me Away on a Phaeton"
--Jack Paar - stand-up comedy routine about live television bloopers.
--David Whitfield (English tenor) - sings "The Rudder and the Rock"
--Maria Tallchief and Nicholas Magallanes (ballet dancers doing a pas de deux)
--Smith and Dale (comedy team) - perform a comedy routine about tax collector.
--Les Petits Chanteurs de Granby / Little Singers of Granby (32 member boys' choir from Canada) - "Sur Le Pont D-Avignon" & "O Canada"
--The Alcettys (German acrobats)
--John Landy (athlete) - film clip shown of race where Landy helps out another runner and still wins.
--Rheingold Girls (includes Dianne Baker, Marie McNalley, Tammy Connor, Beverly Christianson,
Susie Ruehl, Kathleen Wallace).
--Audience bows: Gracie Fields; Melody Sacco (spelling bee winner)

8.36 [414] The Ed Sullivan Show:
27-May-1956 CBS Sunday
Scheduled guests:
--Kate Smith
--Senor Wences (ventriloquist)
--David Whitfield (English tenor)
--Marion Marlowe
--Dick Shawn
--The winners of the Harvest Moon Dance contest
--The Haslevs (acrobats)

8.37 [415] The Ed Sullivan Show:
03-Jun-1956 CBS Sunday
Scheduled guests:
--Burt Lancaster and Tony Curtis re-enact scenes from their movie "Trapeze"
--Lily Pons (Metropolitan opera star)
--Helen Wood (dancer)
--Joey Clay (singer) - "Only You"
--The Lovers (singing group)
--Benny Fields (veteran "minstrel man" making his first Sullivan appearance)
--Larry Griswold

8.38 [416] The Ed Sullivan Show:
10-Jun-1956 CBS Sunday
Scheduled guests:
--Nat King Cole
--A filmed segment with Bob Hope
--Edie Adams (singer)
--Jack Carter (comedian)
--Carol Haney (Carl?) (dancer)
--Rickie Layne (ventriloquist with his dummy Velvel)
--Joey Clay (rock 'n' roll singer)
--The Half Brothers (jugglers)
--On film: "A Short Vision" - described as "an animated fantasy which depicts abstractly the effects of the H-bomb."
Note: The animated film is probably Peter Folds' "A Short Vision." According to the John Halas & Roger Manvell
book The Technique of Film Animation, the film "grew out of a brief poem accompanied by sketches on the subject
of the ultimate extinction of life by a nuclear weapon."

8.39 [417] The Ed Sullivan Show: ALL-ARMY TALENT SHOW
17-Jun-1956 CBS Sunday
Guests:
--Charlie Applewhite, Richard Hayes and Gary Crosby - "This Is The Army" (All three singers were Army privates at the time).
--Ertel & Scott (piano duet) - "The Man I Love"
--Field Artillery Gospel Singers - "You Better Run"
--The Polka Dots (clarinet polka) - "Chicken Polka"
--Pete Palmer - "Granada"
--The Four Gleemen (vocal quartet) - "Down On 33rd & 3rd"
--Trampoline Act (2 people leap through flaming hoops)
--Roger Lehman (tap dancer) - "I've Got Rhythm"
--Les Garcons De Paris - sing "C'est Si Bon"
--Hip Cat Hillbillies - sing "We're Getting Out"
--Tamtettes (5 man jazz combo, wearing shades & berets) - unknown song
--Gen. John A. Klein introduces Secretary of the Army Brucker
--William Brucker presents Army plaque to Ed. New army flag unveiled.
Finale: Army Drill Team (at attention) - "The Army Goes Rolling Along"
Audience bows (all news correspondents): Joe Wilkes; Hal Boyle; Larry Laseur; Walter Cronkite; Charlie Lynch;
Charlie Bain; Walt Peters; Bill Higgenbotten
--Other audience bows: Sam Levenson; Vera Ellen; Jim Kahn; Brian Field (horse race announcer);
Harry Lunger; Lionel Shapiro

8.40 [418] The Ed Sullivan Show: 8th ANNIVERSARY SHOW
24-Jun-1956 CBS Sunday
Guests:
--Ethel Merman, Shelley Winters, Ruth Gordon, Sam Levy - sing Sullivan for Me"
--Teresa Brewer (singer) - medley including "My Guiding Light", "Pretty Girl," etc.
--Ronald Reagan, Natalie Wood, Robert Walker, Walt Disney, Lucille Ball and Desi Arnaz - sing "Happy Anniversary"
in a tribute to Ed Sullivan.
--Kate Smith - medley: "Live til I Die," "I Hear a Rapsody" and "World on a String."
--Jack Paar (stand-up comedy routine) - mail order skit
--Phil Silvers with Sgt. Bilko cast - sings a tribute to Ed.
--Harry Belafonte - "Take My Mother Home" and "Jamaican Farewell"
--Gregory Peck - previews next week's show
--Louis Armstrong - surprises Ed and sings "Happy Birthday"
--UCLA sports all-stars
--The Klausen Bears (Klauson's Bears) - animal act, bear rides bike
Scheduled guests (not mentioned on transcript):
--Susan Hayward
--Abbott and Costello
--Red Skelton
--Eddie Cantor
--Tab Hunter

8.41 [419] The Ed Sullivan Show: JOHN HUSTON SALUTE
01-Jul-1956 CBS Sunday
--On film: Ed interviews John Huston & Gregory Peck on the set of "Moby Dick"
--Gregory Peck (live on stge) appears with Ed & introduces a scene from "Moby Dick" (with Orson Welles)
--On film: clip from "Moulon Rouge"
--Split screen: Ed interviews Jose Ferrer
--Jose Ferrer (on film?) - applies make up & transforms himself into Toulouse Letrec; film "Moulin Rouge")
--Mary Astor & Peter Lorre - talk about John Huston
--On film: clip from "The Maltese Falcon"
--On film: clip of John Huston & Walter Huston receiving Academy Awards.
--On film: clip from "Treasure of Sierra Madre"
--John Huston walks on stage and introduces a film clip from "Battle of San Pietro"
--Sketch: Edward G. Robinson and Ed Sullivan do a gangster-style dialogue
--On film: clip from "Key Largo" where Edward G. Robinson is cruel to a drunk woman.
--Edward G. Robinson, John Huston, and Ed (on stage) introduce Lauren Bacall
--Lauren Bacall talks about how Humphrey Bogart & John Huston had a great collaboration.
--On film: clip from "The African Queen"
--Edward G. Robinson introduces Burl Ives.
--On film: clip from "Moby Dick."
--Burl Ives (live on stage) - plays guitar and sings "Blow Ye Winds," then sings "Life On The Rollin' Sea"
--Gregory Peck - does a reading as Captain Ahab
--Gregory Peck introduces his wife Verenique in audience
Audience bows: Mrs. Walter Huston; Friedrich Ledebur, Mayor Frank Lawler; Mr. Reed (from the Herald Tribune);
Vivian Blaine
--Cameos: Billy Pearson (jockey & art expert) appears with Vincent Price

8.42 [420] The Ed Sullivan Show:
08-Jul-1956 CBS Sunday
Scheduled guests:
--Constance Bennett
--Senor Wences
--Cell Block Seven (instrumental group)
--Patachou (French chanteuse)
--Myron Cohen (comedian)
--Reese and Davis (comedy team)
--Scipini's chimps (animal act)
--Miss Universe beauty pageant contestants

8.43 [421] The Ed Sullivan Show:
15-Jul-1956 CBS Sunday
Guests:
--Bing Crosby - filmed interview with Ed + clip from "High Society."
--Julie Andrews - "I Could Have Danced All Night" & "Show Me" (both songs from "My Fair Lady")
--Louis Armstrong - "Muskrat Ramble," Faithful Hussar," "Stompin' at
the Savoy" and "Basin Street Blues"
--Harold Long and Joan Holloway (dancers) - "Talking with Feet" (with the Toastettes)
--Shirley Yamaguchi (Japanese singer wearing kimono) - "Cha Cha", "Cio Cio San" & "We Kiss in Shadow"
--Wesson and Polk (comedy team) - collegiate humor
--The Iowa Highlanders (Scottish Highlanders with bagpipes, from Iowa State University)

8.44 [422] The Ed Sullivan Show:
22-Jul-1956 CBS Sunday
Guests:
--Jack Paar (guest host) - At end of show, does a routine about phobias.
--Ames Brothers - "Autumn Leaves," "Dry Bones" and "It Only Hurts For A Little While"
--Ted Lewis and chorus - Chorus sings "Me & My Shadow" (as Lewis and his "shadow" dance)
--Ted Lewis - "Memories"
--Professor Backwards (comedian) - Southern storyteller wearing graduation cap & gown, tells jokes,
plays with words by writing letters on classroom chalkboard.
--Larry Daniels (stand-up comedian, does an Edward Morrow imitation & routine about airplane travel)
--Elaine Malbin (operatic soprano) - "This Is My Beloved"
--T. C. Jones (female impersonator) - does singing impressions of an American singer in Paris:
"Two Loves Have I" (in French & English). At end of routine, reveals himself as a man in drag.
--The Moscow Bears - starts with film clip of a performance in Russia. Bears ride a merry-go-round, bikes.
--The Fredonias (acrobatic team)
--Audience bows: a group of circus performers

8.45 [423] The Ed Sullivan Show:
29-Jul-1956 CBS Sunday
Top acts of the Ringling Brothers, Barnum & Bailey Circus
Scheduled circus performers:
--Emmett Kelly (clown)
Also: Tito (acrobat); Cordons (whip act); Reberte Trio (knockabouts); Miss Mara (trapeze act);
Two Marilex (plate spinners); Pinito de Oro (aerialists); Burtons (hand-balancing act);
Al De Gong (chimpanzees); Dschapur and Rutha (jump act); Tonito (wire artist); Adnos (jugglers)

8.46 [424] The Ed Sullivan Show: scheduled: U.S. AIR FORCE TALENT SHOW
05-Aug-1956 CBS Sunday
Broadcast from McGuire Air Force Base at Wrightstown, New Jersey)
Scheduled to appear:
--The Air Force fencing team (also scheduled to compete in the Olympics)
--The Air Force judo team.
Also: the Strolling Strings, Singing Sergeants, Keesler Chorus, the Westerners and airmen Dick Miller,
Donna Byers, Donald G. Baduria, William Dupree, Ronnie Evans, Alfred King, Donald Pyburn and Sherry Simms.

============================================================================================
Guest Hosts for the next 5 weeks while Ed Sullivan is recuperating from a serious auto accident (07-August-1956)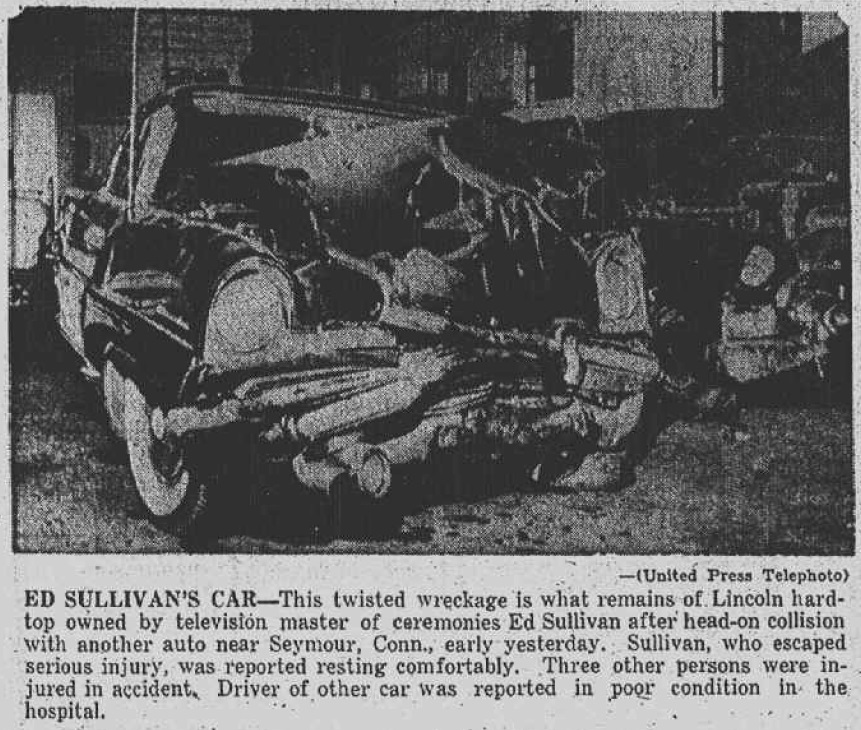 ============================================================================================

8.47 [425] The Ed Sullivan Show:
12-Aug-1956 CBS Sunday
Scheduled guests:
--The Platters - "Dance With Me Henry" and "My Prayer" (possible songs)
--Teresa Brewer - possibly "A Sweet Old Fashioned Girl"
--Charlotte Rae (comedian)
--Dick Shawn (comedian)
--Mickey Mantle (New York Yankees slugger)
--18 Yankees' Wives (scheduled to sing)
--Jimmie Komack (comedinan)
--The Four Jones Boys (vocal group)

Olympic stars (of the past and present):
--Johnny Weissmuller
--Jack Kelly and his son John (Grace Kelly's father and brother)
--Floyd Patterson
--Bob Richards, Sammy Lee, Horace Ashenfelter, Harrison Dillard

8.48 [426] The Ed Sullivan Show:
19-Aug-1956 CBS Sunday
Scheduled guests:
--Jeannie Carson (singing comedian)
--Don Cornell (singer)
--Kovac and Rabovsky (dance team)
--Pinto Del Oro (aerialist)
--"Little Mo" (performing elephant)
--On film: several Japanese acts that Sullivan filmed during his recent trip to Asia.

8.49 [427] The Ed Sullivan Show: U.S. NAVY TALENT SHOW
26-Aug-1956 CBS Sunday
scheduled guests:
--Kirk Douglas (actor, appearing as guest host)
--The Continentals (novelty instrumental)
--The Jumpin' Jacks (vocal combo)
--The Four Bits (vocal quartet)
--Individual performers: John Amoni, James Bowers, Herman Dean, James Dillworth, Ted Forte, William Hrynkiw,
Jac Imel, Leslei McCann, Dick McMeekin, Elmer North, Robert Rodifer, Patricia Ryall, Randy Sparks, Alan Wagner
and Danny White.
Note: A contributor, Don Kahn, added the following: I was the leader and keyboard player for The Jumpin' Jacks.
"Slim" Moore (bass player) passed away in July 2002. Have lost track of Jimmy Wallace
(guitar), Gary Webb (drums) and Jim Pasquerelli (vocal). Don "Aly" Kahn (USMC)

8.50 [428] The Ed Sullivan Show:
02-Sep-1956 CBS Sunday
Guests:
--Patti Page (guest host) sings "Deed I Do" & "Allegheny Moon." And, at end of show, sings "Father, Father, Father"
--Kay Armen (vocalist) - "I Could Have Danced All Night" & "St. Louis Blues"
--The Jones Boys (vocal group) - "Marry A Rich Woman" & "The Jones Boy"
--Maria Neglia (violinist) - "Rumanian Rhapsody"
--Kay Ballard (comedian doing a routine about singer w/hiccups & jokes about boyfriend Albert)
--Al Bernie (comedian, pokes fun at game shows, the United Nations, Russians, the Chinese, and Elvis)
--Bob & Betty Hightower (dancers, doing circus style acrobatics - lots of lifting. Woman bends over backwards
while on thin bar- Dancers Circus Style, Lots Of Lifting. Woman, on thin bar, bends over backwards and picks up
napkin with teeth).
--Al Sturm (novelty act, does tricks with torn newspaper)
--Mr. Ballantine (magic and comedy act)
--Miss Mara (Circus trapeze artist)
--Carolyn Willis (National champion baton twirler)
Preview of Neiman Marcus fashion show with Julie Wilson (from "The Pajama Game"); Ben Mill and Stanley Marcus.
Scenes of models and accessories are shown.

8.51 [429] The Ed Sullivan Show:
09-Sep-1956 CBS Sunday
--Elvis Presley (1st appearance) - "Don't be Cruel" (with the Jordanaires),
"Love Me Tender," "Ready Teddy" and "Hound Dog."
--Charles Laughton (guest host) - reads limericks, poems & does
stand-up comedy routine titled "Little Girl And Wolf" (about sadistic side of Little Red Riding Hood).
--Dorothy Sarnoff - sings "Something Wonderful" (in a scene from the "King And I")

--Amru Sani (female singer from India wearing traditional Indian clothes) - "I'm In The Mood For Love" and "My Bolero"
--The Vagabonds (novelty quartet) - "The Queens Ruler," "I Wonder" &
"How You Gonna Keep Em' Down on the Farm," followed by comedy routine.
--Conn And Mann (duo tap dances to "Tea For Two")
--Amin Brothers (acrobats)
Note: Ed Sullivan missed this broadcast as he was recuperating from a serious auto accident.

8.52 [430] The Ed Sullivan Show:
16-Sep-1956 CBS Sunday
Scheduled:
--Ed Sullivan (to return as host after a five-week absence due to an automobile accident)
Guests:
--The Four Aces
--Marion Marlowe
--Richard Hearne (English comedian "Mr. Pastry")
--The Goofers
--The Harvest Moon Ball champions
--Fujiawari (Japanese opera group)
--Milwaukee Braves baseball team with manager Fred Haney
--On film: Interviews with Ernest Borgnine, Dan Dailey and Sheree North.

############# The Ed Sullivan Show ###########
################## the end #################
##############################################
Have you any comments, corrections, episode titles, air dates, production numbers, directors, writers, story/synopsis, guest stars, cast lists, etc?
Have you any old videos, or tv guides? Dust them off and let us know if you have any information on this series or any other tv series from the
Golden Age of TV, which is missing from any episode guides on the web. Perhaps a certain episode of a particular series coincided with a key
moment in your life, or in world events - and or has left a vivid memory of when it was shown. Let us know. Would you like to see any other
tv series guides on this site? If so please e-mail The Classic TV Archive - see Feedback below.
This guide may be distributed and copied freely, in its entirety, for personal use. All original author and copyright information must
remain intact. Any sales or other uses of this document are expressly forbidden, without the specific consent of the author(s).
Copyright © The Classic TV Archive. All rights reserved.

Return to The Classic TV Archive Home Page
Feedback